The Blackberry Torch 9860 is Blackberry's answer to mobile geeks asking for better hardware and software. The Torch 9860 is a well-rounded mobile device but how can it compete with other smartphones in the market? Blackberry has lost a lot of their market share from direct competitors and they surely need to win it back. Is the Blackberry Torch 9860 their chance to regain their lost market?
The Blackberry Torch 9860 captures some good design value and ergonomics. In terms of hardware and price, there is less to be desired. Let us check how good this device and how competitive it is to today's smartphones.
DESIGN AND UNIQUE FEATURES
Blackberry is known for their QWERTYs but this one is another experience. It sports a 3.7 inch capacitive touchscreen with a pixel density of 252. The size and form factor is desirable and the grip is solid. The Blackberry Torch 9860 colors are sharp but not as crisp as the new smartphones in the market. Of course, it would not be Blackberry without the infamous optical trackpad. It also has other buttons for control (Menu, Call, Escape and End/Power) alongside the trackpad.
The built quality seems cheap for such a premium priced smartphone. The plastic body added lightness to the device; it only weighs 135g and 11.5mm in profile. Blackberry did push their black trademark elements and chrome strips. The Blackberry Torch 9860 is an ergonomic handset with curvy edges and firm grip. The only thing to dislike in the device is its plastic built. Like other blackberry devices, this smartphone features Blackberry Maps, BBM and other notable integration.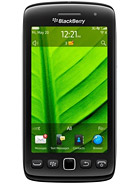 HARDWARE AND SOFTWARE
The Blackberry Torch 9860 is running on RIM's Blackberry OS 7. Powering this smartphone is a single-core 1.2GHz processor. Nonetheless, it is still capable of running less-demanding applications. There's an on-board 4GB storage which is expandable up to 32GB with a microSD card slot. The camera is also a downer with 5 Megapixel, LED flash and a VGA front facing camera. It takes decent photos and 720p HD videos. Noise cancellation works well though.
Unlike other smartphones in the market, the Blackberry Torch 9860 is a hit and miss when it was launched. The full touchscreen experience gave many fans and potential customers the idea of where RIM was heading on their future ventures. The absence of a physical keyboard did not mean anything because other Blackberry launched during that time has QWERTYs. Blackberry Torch 9860 is a brand new experience, much better than RIM's previous touchscreen mobile devices. This one is more responsive and more adaptive to gestures.

CONCLUSION
The Blackberry Torch 9860 is a cool device, it may not be as special as other smartphones but still it is capable of messaging, internet browsing and making calls (which a phone is generally designed). If you are a blackberry fan, for sure, you will love the Torch 9860! RIM designed the device really well but they could have pushed their engineering to a new level. The feel, design, trademark and software-hardware integration is very Blackberry. Without a doubt, this one is a great choice.